Natural Intrinsic Altruism
It is because we get to tap into their natural intrinsic altruism to help. The research from here and here shows that kids as young as 14 to 18 months wants to help others without any expectation of rewards or reciprocation of any sorts. Think about this for a moment, this is like getting your four year old to eat Brussel sprouts because he loves it as much as the mac and cheese!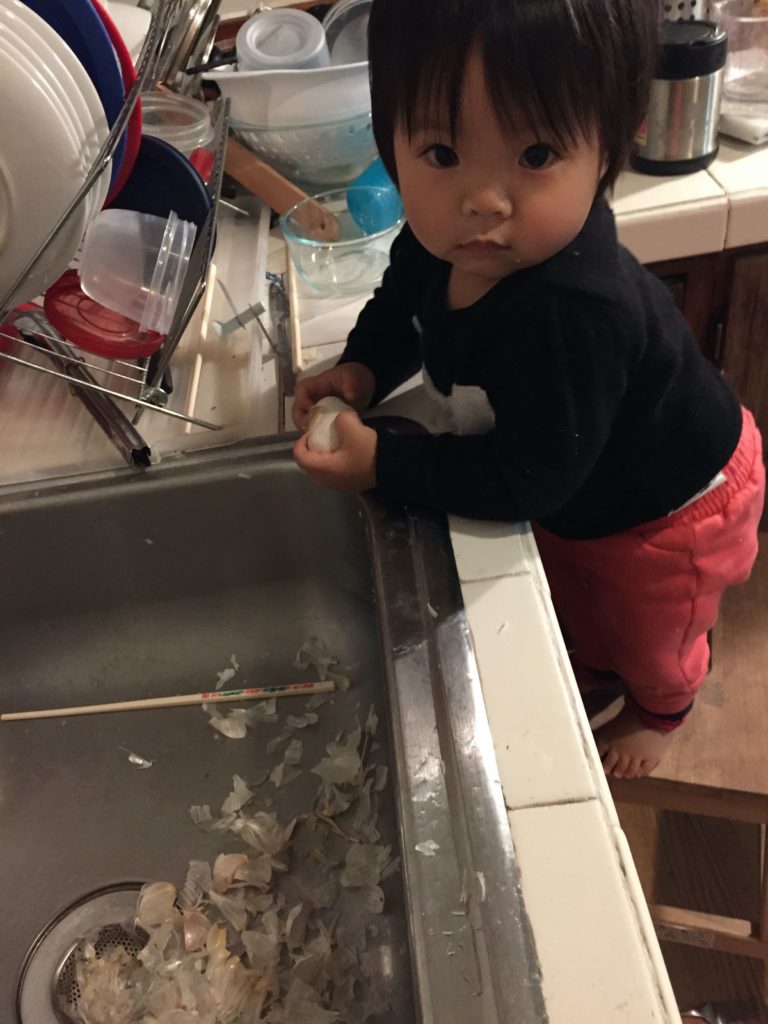 This probably explains why my then 18month year was busy knocking this garlic bulb on the kitchen sink. She is trying to peel some garlic like Mom. She probably think it's fun to see all the garlic peel flying all over the kitchen sink.
Here is another picture of her at four years old happily and proudly putting away her clothes without being reminded. She further gained more pride and joy when her aunt caught her doing it and loudly lavished her with praise for being such a good helper. A bulb must have gone off in her head telling her doing chores and being a good helper is a good thing.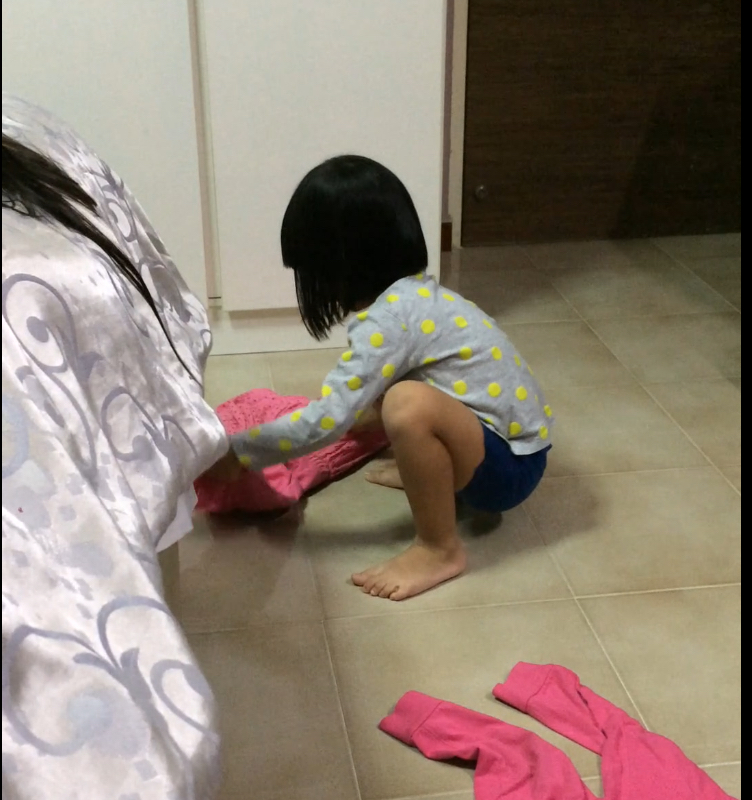 Slow Down and Embrace the Messes
Unfortunately, in our busy modern life, many of us parents tend to miss this golden opportunity to develop budding home assistants because we think they are too young to help, or we are too busy to show them how to do it because it's faster for us to just get it done.
The reality is that at that age, they really cannot do much. They will probably be clumsy and probably make a bigger mess. They will probably splash water all over the counter and maybe even on the floor while helping to wash a cup.
Just two days ago, we had pyrex glass shards all over the kitchen because our eight year old accidentally dropped the pyrex bowl while she was unloading the dishwasher. She had done it many times before, but well, accidents do happen. What could have been a 10 minutes job if I just unloaded the dishwasher by myself turned into 2 hour kitchen spring cleaning event. We had to clear out the entire counter top to find all the tiny pieces of broken glass. I forgot to take a picture of the awful mess, but today I found another two large pieces of broken glass hiding under the kitchen stove.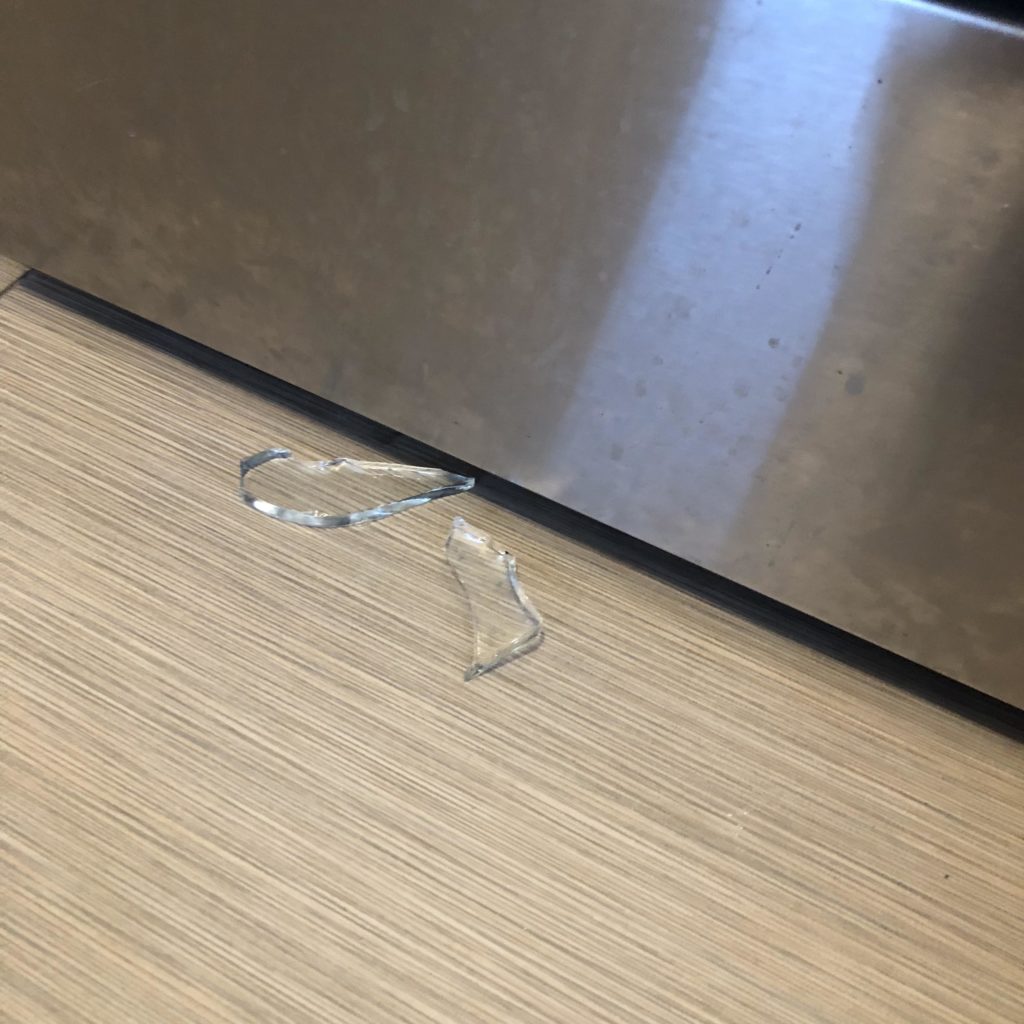 Yet, it is in times like this that we must persist and use such accidents as teaching opportunities to help them learn to do the job better next time. If, we instead turn them away and tell them they are not competent enough to complete the job, that is what they will believe, not just in unloading the dishwasher but in other areas of life too.
Good Habits from Young
This brings me to the next point of how if we start them young, and they build up the good habits of learning to help and pitch in from young, it becomes second nature for them. This is particularly important in their later years when Youtube, TV shows, video games starts to distract them from the real world that they live in.
Furthermore, as they grow and mature, the intrinsic goodness tend to evolve into a form of selective helping due to influences from human social interaction. In a way, it's a form of Darwinian evolution by the way of the "survivial of the fittest". In the theory of "kin selection", human has a greater tendency to help their own family and relatives to promote the survival of their genes. For unrelated individuals, there is the theory of "reciprocal altruism", where individuals help one another with the anticipation they receive help in return sometime in the future.
Hence as they grow other, the intrinsic desire to help lessen and there might be a need to add in external motivators to get them to help with chores.
But this requirement of external motivators can be reduced if they have already build up the habit from young with the expectation to help with chores around the house. If they have been putting away dishes from the age of three, there is no reason to stop doing it when they turn fifteen. This is because the habit has been ingrained in them. It's like brushing our teeth, we do it without thinking because we have been doing it for so long.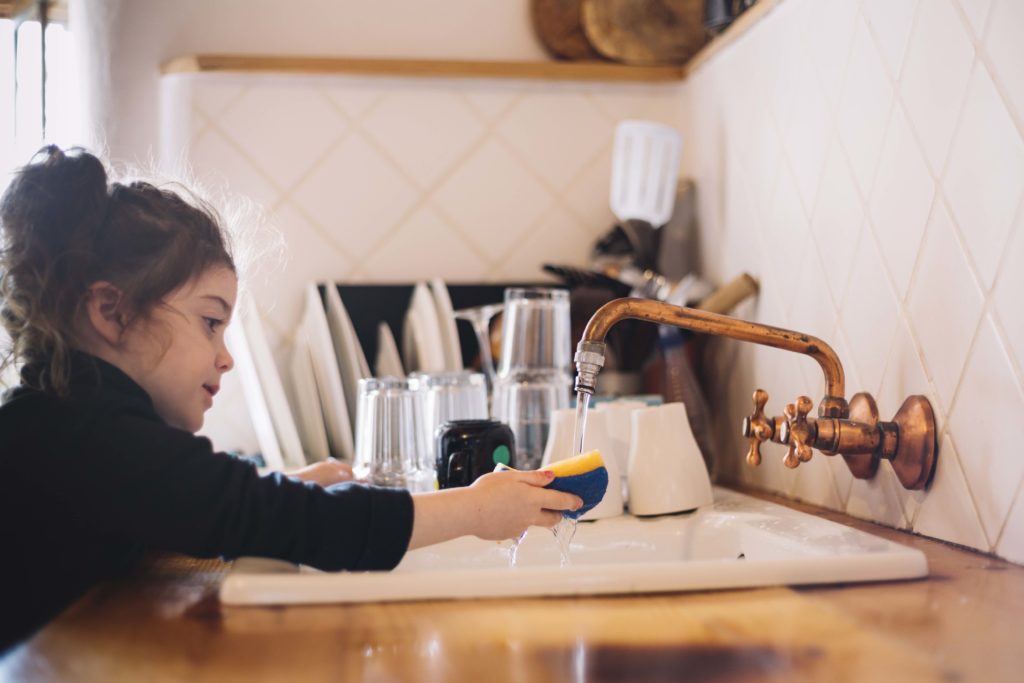 So spare yourself the need to battle your teenagers to put away their own dishes by starting them to do it when they are three years old.
Setting them up for Success
Studies have shown that doing chores can help kids to become more successful. This is because when we view doing chores as a teaching opportunity, we teach them the value of teamwork, being responsible, having a good work ethic, having pride in their work and being contributing member of their community.
When they break a pyrex bowl, we can teach them that accidents happen and we can be more careful in future. We teach them what we need to do to clean up the messes after the accident.
If they do not take responsibility to sort out their laundry properly, they learn that their white soccer jersey may just become bright pink on their game day.
Instead of leaving crumbs all over the house, they learn that they can each play a part to clean up the house for a clean, neat living environment.
Instead of saying I do not know how to peel a potato, they learn that they can observe, ask, learn and do anything that they want to. During the Thanksgiving cookout at school, you will have a beaming proud eight year old showing his friends how to peel the potato.
Over time, the cute but clumsy three year old that splashes water all over the counter will grow to become a confident, competent helper who could make you some eggs and toast for breakfast in bed on Mother's Day.