Udemy is one of my favorite online learning platform. I like Coursera too. Although I find that Udemy is more geared towards practical usable skills while Coursera has a more academic focus. The way these online learning platform are growing, I won't be surprised that kids in future may no longer have to go to brick and mortar skills to get their degree. That might take a while but in the near future, it will be a hybrid of getting an academic degree from a brick and mortar university while enhancing your skills with these online platforms.
While I was in the midst of my programming, SEO and fundamental investment courses in Udemy, I came across a series of art classes for kids. She started with two or three classes and have increased the number of courses over the years. You can view all her classes here.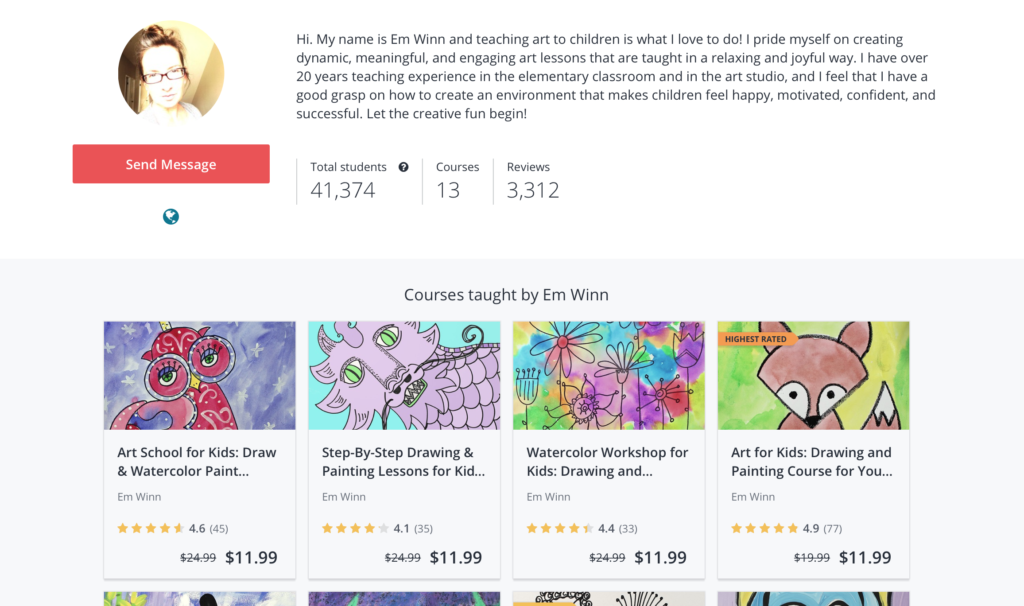 I am no artist myself, in fact I have a phobia of art. During our elementary school days, I was often stressed and terrified by art classes because the teachers never really taught you how to draw or create art but somehow expect you to turn in Masterpieces by the end of the day. In those days, the art and music teachers we had were all kind of uppity and had no qualms shaming your art pieces loudly, with "how does that even look like an apple?", in front of the whole class.
Hence, I had been wanting to find opportunities for my kids to take art classes but had no luck finding any in the area that we lived. So I was excited to try out these online courses on Udemy.
Course Structure
Each lesson consists of two videos. In the first video, she explains how to draw the picture. I particularly like how she shows how she organize her picture on how the shapes and lines are put together and a recognizable picture is formed. She uses similar concepts from the book Drawing with Children.
I am sorry to sidetrack here, but I wanted to share that Drawing with Children is an excellent book that helped my overcome my own fear of art and drawing. Basically the premise is that all pictures are composed of only five elements, a dot, a circle, a straight line, a curved line, and an angled line. With these five elements, you can draw anything!
Back to the Udemy videos, after completing the drawing, she moves on to show how she paint the picture in the second video. So this is excellent with kids, since it forms a natural break for kids to complete their drawing after the first video and move on to the second video once they are done with their own drawing.
I also love that she encourages the kids to add in their own creative touches, add more whiskers here, a couple of flowers there, feel free to mix up the colors or choose whatever you fancy.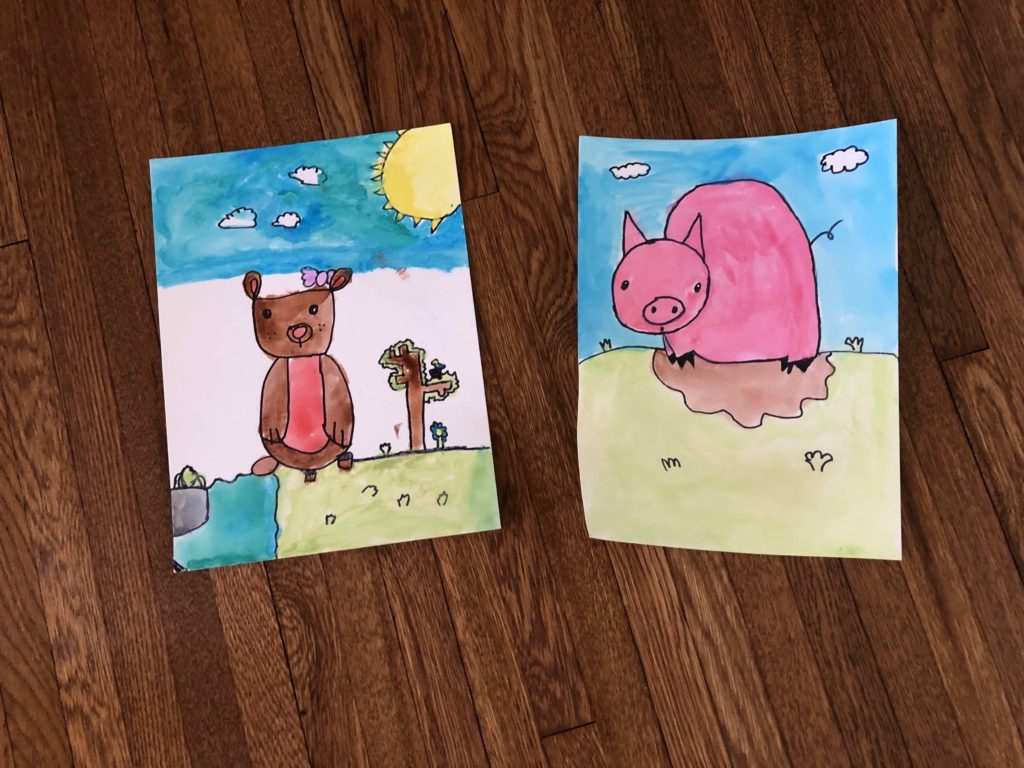 What is even better is that my kids usually will start with one of the lessons from the course and move on to create their own pieces after that. So it can keep them occupied for a couple of hours on wet rainy days or during cold dreary winter days.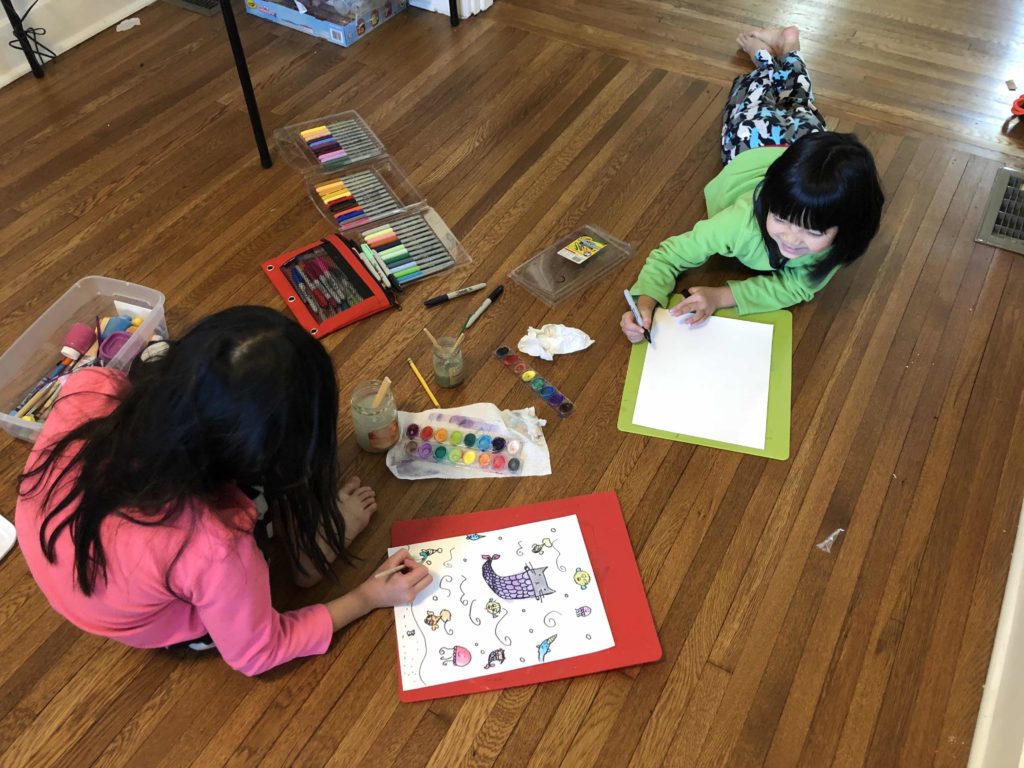 Value for Money
Seeing what my kids can create from the classes, and paying typically $9.99 to $11.99 for each course, I can say they are definitely value for money. Take for example the Art for Kids and Beginners, there are a total of nine lessons. Each lesson teach the kids to draw one unique animal, so there is the surfing Koala, funny Bunny and Jolly Giraffe etc. If i were to send them for actual art classes, it will easily cost $15 to $20 per kid per class! So I am really thankful that there are such affordable resources available.
Just a quick note that I typically do no pay the full price for courses on Udemy. Udemy often has promotions and courses can usually be bought for between $9.99 to $11.99. Try not to pay more than that!
In addition, for the water color course, I actually bought proper water color paper for the kids. I initially started with just regular printing paper and realize that those does not work too well in absorbing the watercolor paints (I told you I used to have a phobia of doing arts :P). I bought the Canson Watercolor paper from Amazon, which I believe was the cheapest that I could find and it's been working well for us.
Do you have any favorite art resources that you love? I would love to check them out if you would leave them in the comments below. Thank you!