In the beginning…
All Mom wanted to do was to teach the kids some money management principles. To teach them the value of the dollar, the beauty of saving for rainy days and to know the difference between needs and wants so they would stop badgering her for yet another LOL doll. 😛
First Attempt: The Money Jars
So Google enthusiastically showed her a ton of Money Jar ideas.  Make some pretty jars, one for Savings, one for Spending and one for Giving. 10% for Giving, 30% for Spending and 60% for Savings. Sounds pretty awesome!
Unfortunately, the only good thing was that the kids had fun decorating their jars. We had a complete nightmare trying to use those jars for any real practical purpose.
This is what happens when they are given a dollar note:
The 7 year old whines in frustration because it is impossible to break down the amount precisely into the three jars as prescribed by the system.

The 10 year old will give up after numerous desperate attempt to move the loose change around the jars in order to get desired apportions.

And finally the 5 year old will have all her five-dollar notes, quarters and dimes scattered all over her room as if it was time for another "find your money" game. 
Needless to say, our money jar experiment was quietly abolished and forgotten in no time. It was clearly a defeat for this well-intentioned Mom to start teaching her kids about personal finance.
Attempt Number Two:
The Spreadsheet that Did Not Work
But this Mom was just not about to give up. So instead of this manual money system, she decided she could be bit smarter and more tech savvy… by using an Excel Spreadsheet instead! Now, she could even teach them compound interest by giving them a 2% p.a interest on their monthly balance. She was feeling quite proud and smart at this point of time.
The kids would record down the chores they have completed and each day Mom will sign off their chore chart and pay them by recording their earnings into the spreadsheet. Except now, the onus is on Mom to sit down each night, turn on the computer and enter in their earnings. Sounds easy enough, except it's not so easy in real life at 9pm, when all Mom wants to do after cooking, cleaning and homework is to just get the kids to go to bed!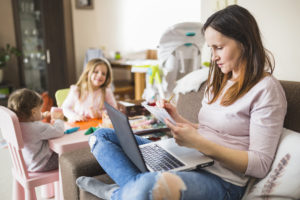 After a couple of months, this frustrated but somewhat tech-savvy mom decided that given today's time and age of technological advances, there simply has to be a easier and pain-less way of teaching kids money management skills from a young.
KidsHomeBank was Born
So this relentless mom sat down and thought about it. The spreadsheet idea was working, the kids were motivated about getting their extra chores done as they wanted to save money for their new iPads. But recording their earnings and tracking their money was a pain in the ass, as she has to get her computer, open up Excel (which takes longer than she would like) and enter each item manually. In addition, at the end of each month, she has to manually credit their interests payment.
Worst of all, there was no easy way for the kids to check their latest balance and they would be badgering the tired and worn out Mom at 9pm each day to tell them what was their daily balance.
And so KidsHomeBank was born… the solution came to Mom in the form of an app on the phone which was easy to access to and she would build the app in a way that entering their earnings was going to be a walk in the park. It had to be easy to use and was to take a tired mom no more than 5 mins to pay the kids their chores!
This Momma hopes KidsHomeBank will be as useful for all busy Moms and Dads out there as it has been for her! Drop her a note here, she will be thrilled to hear from you.
You can get the app from the App Store here.