Other than paying our kids for chores around the house, there are many other ways that our kids can earn some money using the skills and talents that they have.
While we may have lost the traditional paper route favorite due to the change of times, there are still many kid friendly options that let our kids earn a small reward for helping out with their neighbors.
Furthermore, the rise of new online selling and social media platforms has also given rise to new ways for a kid to earn money safely from home under appropriate adult supervision.
Participate in Research Studies
This is a great option is you live near universities who are conduct varies studies for their research. There are many research focused on children's health and development that the child can participate in. Some of them may require a couple of MRI scans to observe your brain functions, while others may require you to complete a number of surveys over a couple of visits.
We personally know a friend's child who saved enough from participating in research studies to buy a new IPhone 12.
Set Up a Lemonade Stand
We had three great years with our lemonade stand when we lived right across a busy park. The kids learn some basic principles of cost of business and profit and loss, as they have to account for the costs of fresh lemons.
It was also a great way to meet many nice and friendly people who were so kind to our kids and praised them for their entrepreneurial spirits.
While they are at it, maybe add some homemade cookies to boost your sales and profits too.
Be a Pet Sitter
If your child is an animal lover, this could be the perfect job for them. They get to help your neighbors make sure their pets are fed and taken care off when the owners are away on vacation. My kids were excited to go over to feed and play with the neighbor's cat twice a day when our neighbor was away on vacation.
For dogs, you might have to take them out for walks or let them out a couple of times a day.
Start a T-Shirt Business
They can explore various print-on-demand services to start a T-Shirt business. Print on demand services (POD) like Printful, Gooten, Printify and many others.
With print on demand services, you do not need to hold any inventory, the POD services will print the T-shirt only when the order is made and even ship the item directly to the customers for you.
Start a Soap Making Business
This could be an extension of a fun and creative science experiment. Although traditional soap-making requires handling dangerous chemical like lye (sodium hydroxide), so you may want to consider safer melt and pour kits instead. Brambleberry has a ton of cool kits to get you started.
Sell Handmade Jewelry
If they enjoy crafting, they can make jewelry like friendship bracelet, charm bracelet and bandalooms for sale. They can post and share their creations on Facebook and Instagram to market their creations.
Sell Books
Do they have a big library of books that they have outgrown reading them? Consider selling them to second hand books stores like half price books or reselling them on Amazon.
Start a YouTube Channel
If they enjoy making videos, they could start a YouTube channel. They will start earning money from YouTube Adsense ads once they get more than 1000 subscribers and at least 4000 watch hours in the last 12 months.
However the minimum age to participate in Adsense is 18 years old, so they might have to start out under a parent's account first.
Design Pinterest Designs
They can use Canva or PicMonkey to help bloggers design Pinterest Pins to promote their blogs and articles.
Canva and PicMonkey make it really easy to design beautiful pins with their extensive library of fonts, images and graphics. You can start with the free account and upgrade to a paid account if necessary.
Hold Garage Sales
Have a ton of old toys and clothes lying around? This would be a good time to declutter and earn some money with a garage sales. Remember to set up your garage sale signs at popular road junctions or participate in community garage sales day to get as much foot traffic as you can.
Mow the Lawn
A classic summer job for a 11 to 12 year old who's strong enough to operate a lawn mower. Our 11 year old gets paid to mow our lawn and has gotten jobs from our neighbors when they are away for holidays over the summer.
Out of an abundance of precaution, we got the lithium ion battery based lawn mower for our son. This way we don't have to worry about him messing with gasoline, engines or the electrical cord.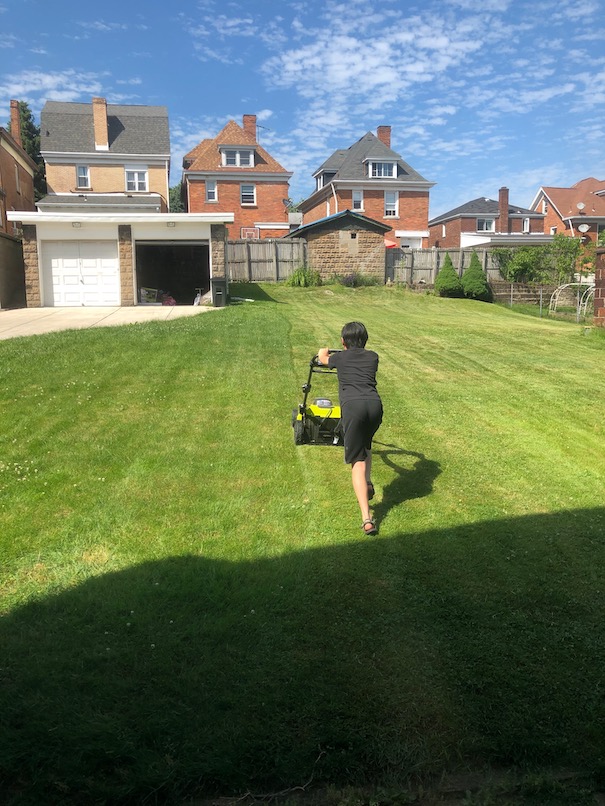 The lithium ion battery based lawn mower are also super light and easy to maneuver compared to the traditional gas operated lawn mowers. They are also super handy for the steep slope in our front lawn.
Be a Referee
Our local soccer leagues hires teenagers (13 and above) for their youth soccer league. Typically the thirteen year olds will be the referees for the younger 5-8 year old's games. Some parents may get a little too agitated during the games, so it could be a good opportunity to learn about conflict management from young.
Our local leagues provide the teen referees with the necessary training to become a qualified referee pays them around $12/hour.
Be a Dog Walker
If you child is a dog-lover, they could go around the neighborhood and see if there is anyone in need of a dog-walker while they are at work or on vacations. The child has to be careful to pick up after the dog so they don't leave a mess on other people's yard.
Be a Mother's Helper
A mother's helper is someone who is not quite old or independent enough to be a baby sitter yet. Rather, the mother's helper helps a mom by playing with the older kids to keep them occupied, make simple lunches for the older kids or do simple chores around the house.
Be a Babysitter
Once your child is older and more responsible, they could become a full fledged baby sitter. While the parents are away, for a date night or work, the babysitter is responsible for keeping the children safe, entertained and fed. Sometimes, the babysitter might have to supervise or help the children with their homework too.
Tutoring
If they are good at reading, math or science, they can provide tutoring services to help other kids with their school work. They can help other kids with their school homework or find other resources to supplement the school's assignments. Tutoring rates start at around $15/hour for teen tutors and if you are good and popular, it can go as high as $20-$30/hr or more.
Be a Golf Caddy
Already a golfing fan or enthusiast? What better way to earn more money for your hobby than to be a golf caddy. Not only do you get to make a few extra bucks, but it's a good way to hang around better golfers to improve your strokes and skills.
Write a Book or E-Book
Do you have an aspiring writer? Encourage them to write a book. They can self-publish the book as an e-book as a start.
Start a Blog
If they enjoy writing and sharing about their interests, they could start a blog to share their knowledge. Unlike other ideas, this is a longer term gain as it might take 1-2 years before they start seeing any income from a blog.
Teach a Foreign Language
If they are proficient at a second language, they could offer to teach others interested in learning the language.
Face Painting
Have knack for drawing a tiger on a child's face or snack on their arms? This would be a fun and lucrative business to have at carnivals, fairs and community events.
Make Balloon Animals
Balloon animals are fun to make and fun to have. My kids would line up for hours just to get a pink kitty with red bow balloon animal during community events and fairs.
They can also partner up with restaurants to offer their balloon animals to their customers on a tips only basis. They do not get paid by the restaurants but receive tips from parents for the balloon animals.
Parents are often happy to pay a couple of bucks to keep their young children happy and entertained while waiting for the food to come.
Be Theme Characters for Birthday Parties
We have a neighbor who specializes in birthday parties. We often see her dressed up as Snow White, Elsa or Cinderella on the weekends. If they have a happy and outgoing character, this is a great way to earn some income.
All you need is some costumes and make up and be prepared to smile a ton for the pictures with the kids.
Be a Magician
Do they have an interest in learning magic tricks? If they practice and become good at it, they can be a magician at birthday parties. This way they get to practice their tricks and earn an income from it.
Conclusion
There are many creative options. So, the next time your kid is thinking of a new gaming laptop or a new outfit, they can consider some of these ideas to earn and save up for their goals.