Getting your kids involved in Science, Technology, Engineering and Math (STEM) is not just about programming or solving Math problems. At the very core, STEM is really about sharpening the ability to think logically to solve a problem at hand.
One of the best way to practice logical thinking from young is to play fun logic games. Many of the games are fun to play as a family or independently on their own.
Typically, these games require the child to trial and error and to think spatially in order to solve a puzzle. Along the way, they begin to realize that if I turn this piece of puzzle around, it could fit! The child has subconsciously learned to think about solutions for problems from multiple different angles. This, is the core essences of STEM.
Here are some of our favorite logic games and puzzles that our kids are still playing with after more than 5 years.
In Camelor Jr, you are given 48 challenges with 4 different skill levels of Starter, Junior, Expert, and Master. The goal is to use the blocks to construct a path to help the Knight save the Princess.
Having the Princess and Knight themes abstracts the logical thinking into something more concrete for a young child. Instead of treating it as a task to build the path, the child naturally wants to find a way to bring the Knight to the Princess.
The blocks with steps and towers of different height further create a playing environment that is familiar to them in real world. For example, just like in the real world, you have to go up the steps if you want to go higher.
With all these colorful blocks, Camelot Jr is recommended for children ages 4 and up.
In Trucky 3, the goal is to fill up the trucks with the different-sized blocks. There are three trucks of different size and ten blocks of different geometric shapes.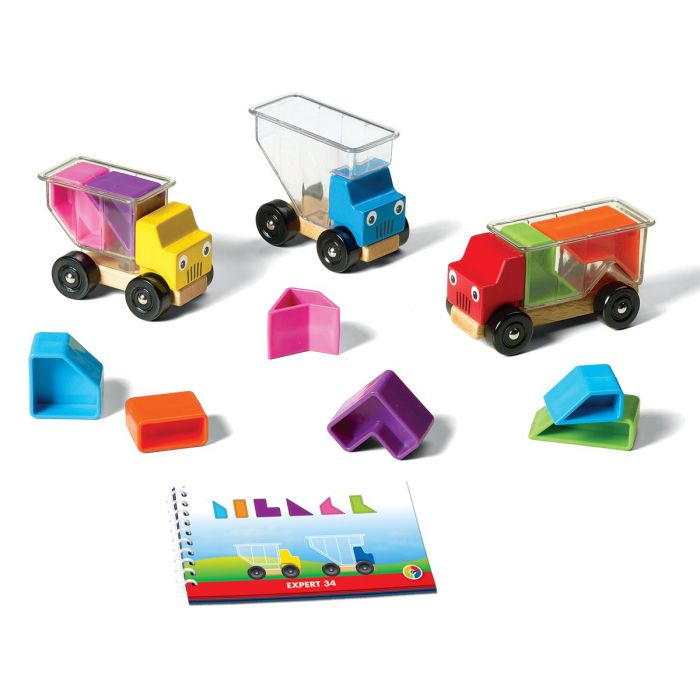 The game booklet comes with 48 challenges where you have to fit the given pieces of blocks into specific trucks. There are 12 challenges for each of the four (Starter, Junior, Expert, Master) levels of difficulty.
Just like Camelot Jr, the element of play is very strong is Trucky 3. The natural instinct for a child is to fill the truck and be able to push them around. While doing so, they are gradually introduced the concept of spatial limitation and what can be done to get around the limitation.
In the beginning, it might seem like it is just trial and error, but subconsciously the child is learning how to solve a problem by rotating one block 90 degrees or trying out different sets of blocks to fit it into the truck.
With all these colorful trucks and blocks, Trucky 3 is recommended for children ages 3 and up.
Gravity Maze is another all time classic in our family. It is a little like Marble Run but more tricky because each level of the tower has a different entry and exit point.
Admittedly this is a lot more challenging than Camelot Jr and Trucky 3. Many times, I myself get stumped.
Gravity Maze contains 60 challenges from beginner to expert levels. Each challenge shows you the start and end point of the challenge and specific towers that must be placed in pre-determined position. The goal is to place the remaining towers on the grid so that the marble can drop from start to end via the fixed towers.
There are multiple dimensions to think about in this game. You have to think about how the second tower connect to the first tower, and which second tower has the right entry and exit slot in order to connect correctly to the third tower, so on and so forth.
Gravity Maze recommended for children ages 8 and up.
We actually got the Gobblet Board Game as a gift and I did not think much of it when it got it. But it turned out to be quite a gem. It is a play on the well-known tic-tac-toe game. The goal is to form a line of four with your goblets.
The twist is that goblets (chess like wooden pieces) are like the Russian Nesting Dolls that come in four different sizes. So you can gobble up your opponents chess pieces with a bigger goblet to make that piece yours.
Unlike the tic-tac-toe, there unlimited variations to play this game to win. It is like a mix of tic-tac-toe, checkers and chess that requires you to think a couple of steps ahead of your opponents.
The Gobblet Board Game is recommended for children ages 7 and up. Although I think a younger child, between 5-7 years old would be able to enjoy the game too.
The SmartGames IQ Link contains 120 challenges over five different levels of Starter, Junior, Expert, Master and Wizard. Each challenge starts by having some of the links placed in predefined areas. The goal is to fit all the remaining links onto the board without moving those initial links.
The SmartGames IQ Link comes in a self-contained compact case that makes this extremely travel friendly. We have used them on long flights. We have also used them while waiting for the food to be served in restaurants.
SmartGame IQ Link is recommended for children ages 8 and above.
The SmartGames IQ Blox is similar to the IQ Link. The goal is to fit all the pieces onto the board. The IQ Blox also has 120 challenges for levels Starter, Junior, Expert, Master and Wizard.
The main differences is that the IQ Blox places the white pegs on pre-defined places on the board and the child has to fit the colorful blocks around the white pegs in order to complete the challenges.
The IQ Blox is also a little easier for younger children. It is recommended for children ages 6 and above.
We have both the IQ Blox and the IQ Link so the kids do not have to fight over their puzzles.
No list will be complete without the classic all time favorite Mastermind Game. This is the classic game that I grew up with!
This is a two player game where one player (Codemaker) chooses a sequence of colored pegs that the other player has to try to match.
This game is a great start for young children to learn basic concepts of colors and patterns while having fun. This is also the start of deductive reasoning as they gather clues form the Codemaker to decide how they should set up their next sequence.
What are Your Favorites?
We have had these games for five years or more and my kids would often still pick them out to play on their own. It is also definitely a bonus that these games are well built and well-designed such that everything can be easily kept together in a box. Easy for the kids to pack up means less stress for Mommy too.
These games are definitely well worth the investment because, not only have they been played over and over again, over time, we have seen our kids' spatial and analytical skill improve as they progress to more difficult levels of the challenges in the games.
These skills are further transposed to real life and in their academic work. They learn to try again and think of different ways to solve a problem.
Do you enjoy logic games too? What are some of your favorites?