I must admit I am not quite a fan of the arcade myself. Being the frugal me, I tend to think of playing arcade as a pretty wasteful endeavor. Even as a kid, I reasoned that I could play the same or similar games for free at home and the prices are really not worth the amount of money we had paid for the tokens.
But, I try to remind myself that not everyone is me. I mean I enjoy skiing, but who's to say skiing is not a wasteful endeavor. So I try to appreciate the joys my kids get from the arcade games. But, of course, it is only still reserved for special occasions, not something of a daily occurrence.

Chuck E. Cheese
Chuck E. Cheese has evolved over the past five years that we have gone occasionally. It used to be token based, and on average, it costs around a quarter per game. Recently, they have upgraded to using digital play pass instead. The digital play pass is a lot more convenient, especially for little ones who are already too excited by all the games. There is less frustration over lost or forgotten coins. But we sometimes miss the ability to feel and touch all the coins, we feel kind of rich handling all that coins.
We particularly like the new "All You Can Play" option. This option allows you to purchase unlimited play for a fixed period of time. Typically, with the available coupons, we pay around $15-$20 for one hour of unlimited play. The 'pause' option is a great bonus. You can pause the timer on that one hour when the food comes, so you don't have to wrangle and fight the kids to eat their food as fast as possible.
For the young kids, who are most excited about collecting as many tickets as possible, the unlimited play option is wonderful as they can play as many games as they want without having to plan and ration the use of their tokens. And of course, it didn't take long for my daughter to figure out which game gave her the highest probability of getting the most number of tickets in the shortest amount of time. She literally spend 80% of her time on just this machine.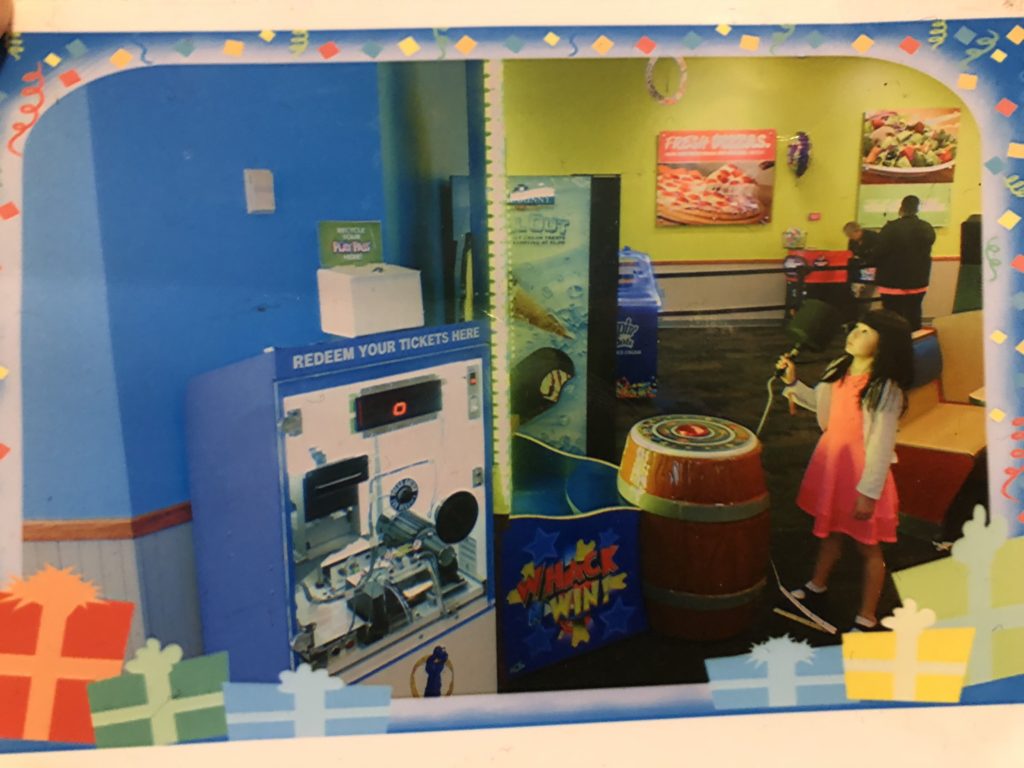 Pros:
Unlimited Play Option
Open layout which makes it easier to track where everyone is
Safe with security measures in place. Every family get a stamp when they enter at the door. Before anyone leaves, they check your hand stamp to make sure you are not being led away by strangers.
Cons:
The food options are not that great for adults. The pizzas are fine for kids, but the food options at Dave and Busters are definitely way better for the adults.
Games are targeted mostly for younger kids. So most of them are jackpot like of games like Spin the Wheel, Hit the Hammer type of games. There are a couple of basketball shooting games and pinball games. There is not a lot of video arcade games.
Price redemption options are average. Harder to get a 'nicer' toy.
Dave and Buster's
I had avoided going the Dave and Buster's for a long time because it seems kind of loud, dark and complicated for little ones. The prices also seemed more expensive and complicated than what we were used to at Chuck E Cheese. For example, for a $20 Power Up Card, you get about 125 chips. Each game average abut 7-9 chips, so that about just 16 games for $20. What annoyed me most was that you still had to pay $3 to activate the card which is not refundable even if you return the card. I am like… really… what's there to activate?? So the first time we learned about this, we actually left Dave and Buster's and went to the Chuck E Cheese that was right opposite it.
Anyway, last week, I finally brought the family to Dave and Buster's because my 20+ years old nephew was visiting us and he really wanted to check out Dave and Buster's.
We ended up going with the Eat + Play Combo because we were planning to have dinner there anyway. So for $26.99, we got $20 Power Card and choice of a meal. For example, for $26.99, we got the Gold Fingers (chicken tenders and fries) that cost $14.00 (on the menu) and a $20 Power Card. I believe we did not have to pay any activation fees for the Power Card with this promotion. But we did pay tax and gratuity on the whole $26.99, which brings the total to about $32 vs $37 if we bought the meal and card separately. We did save a little there, and I am hoping that the gratuity went to the server completely.
As I expected, my daughter used up her $20 Power Card in less than 15 mins on the hammer game. On the other hand, my nephew spent two hours playing the Dance Dance Revolution Game and still was not able to finish his $20 Power Card. So depending on the types of games that you play, Dave and Buster's could be a wonderful option too.
Unexpectedly, even though she used up her credit within 15mins, she was able to collect close to 600 tickets and was able to redeem this cute this Kelptocat for 550. The last time we were at Chuck E Cheese, even though she spent most of the entire hours hammering for thousands of tickets, she still did not collect enough ticket to redeem for a stuffy. So Dave and Buster's kind of wins her for the nice selection of toy redemption for a reasonable amount of tickets.
We are planning to go back again to Dave and Buster's on their '1/2 Price Games' on Wednesdays for the kids and the Cantina Nachos for me!
Pros:
More food options for the adults
Nice selection of toy redemption options
More game options. They have video games like Mario Cart, Superman, Dance Dance Revolution, table air hockey, pinball, basketball hoops and many others.
Cons:
Harder to keep track of everyone because the place is much bigger, louder and darker.
There are no door checks in place, so you need to keep an eye on your little ones.
Seems a little more expensive if you there are no promotions.
Have you also been to both of them? Which do you prefer?